Relax, unwind, and destress. Improve your mental and physical health through reflexology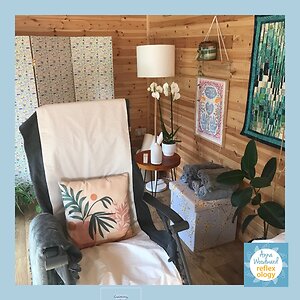 I am a qualified reflexologist based in Walthamstow, Waltham Forest and a fully insured member of the Association of Reflexologists. I specialise in women's hormonal health: fertility and conception, pregnancy, endometriosis, PCOS and the perimenopause and menopause. I also practice Reflexology Lymph Drainage, a specialist form of reflexology that supports clients with autoimmune conditions including primary and secondary lymphoedema.

I completed my Diploma in 2017 at the renowned London School of Reflexology under reflexologist Louise Keet, author of 'The Reflexology Bible'. I have undertaken further studies in the areas of fertility and conception including the practical application of Advanced Reflexology Techniques (ART) with reflexologist Hagar Basis, Director of the Reflexology Academy.
Following training and accreditation in 2021 from Sally Kay, founder and creator of Reflexology Lymph Drainage I am now an approved practitioner of Reflexology Lymph Drainage,a highly effective treatment for primary and secondary lymphoedema, which in recent years has also helped people with other autoimmune conditions such as psoriasis, eczema, arthritis and fibromyalgia..

I provide reflexology from my calming garden treatment room in the Wood Street/Upper Walthamstow area of Walthamstow, E17.

I also offer reflexology home treatments across Waltham Forest, Redbridge and the surrounding area. Home treatments are available between 10am-2pm Tuesday-Fridays. Please email me via annawoodwardreflexology@gmail.com if you would like to book a home visit.

Alongside the reflexology treatments, I will work with you holistically to identify realistic lifestyle changes that will support you to take care of your health and wellbeing between each visit. These will be discussed and reviewed at the beginning of each treatment.
Reflexology can provide support for a wide range of health conditions including
*Anxiety and stress
*Digestive problems, including IBS and constipation
*Endometriosis
*Fertility/infertility
*Headaches and migraines
*Insomnia
*Lymphoedema (Primary and Secondary)
*Menopause (hormonal imbalances)
*Pain and inflammation (in joints, muscles or skeletal frame)
*Polycystic ovary syndrome (PCOS)
*Pregnancy (including common pregnancy symptoms such as constipation, pelvic pain and oedema/swelling in the ankles, feet, hands and wrists)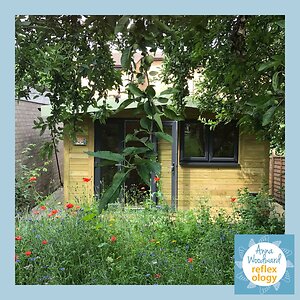 What to expect during a treatment
Your first reflexology treatment will include a short health and lifestyle consultation at the start of the session. This gives me the opportunity to find out about any areas of concern and to create a specific treatment plan tailored to meet your needs.

Having a reflexology treatment is very relaxing. I will use my hands, fingers and thumbs to massage and apply gentle pressure to the ankles and feet. This enables me to find specific areas - the reflexes- that are sensitive or out of balance. Applying gentle pressure to these reflexes helps the nerve endings (7,200 of them in the feet) to be cleared of calcium crystals or uric acid, to support the body to function properly.

After the treatment I will discuss my findings with you and this will be an opportunity for you to feedback to me why you think a particular reflex could be out of balance. Depending on your reason for treatment, I may recommend a further treatment or a course of treatments.

Following your reflexology treatment you may feel more tired than usual so give yourself plenty of time to rest afterwards and drink lots of water to help get rid of any toxins that have been released during the treatment.
Testimonials
"Since starting reflexology (which I have mostly been having bi-weekly) I have very rarely been ill (this despite having cancer & undergoing invasive treatment). The reflexology provides a period of calm & always feels so restorative & nourishing. At a time when I have been so depleted and run down from various cancer treatments I found the reflexology helped to restore my balance. A year & a half on from my diagnosis I have had surgery & am now in remission. My sessions with Anna have provided me with a space to process what I have been through & to truly relax in the face of a very uncertain prognosis. I truly credit reflexology & Anna with getting me through this whole process- giving me the resilience & strength to keep going & be able to achieve such positive outcomes. I would wholeheartedly recommend reflexology with Anna to anyone that is going through cancer treatment or living life after cancer" Lucy, Walthamstow December 2022

"I have been having Reflexology Lymph Drainage with Anna for lymphoedema in my feet and can honestly say the treatment is amazing. I was extremely distressed about my condition when I first met Anna: she took the time to explain the treatment, her kind and professional nature helped me feel calm and relaxed. I have weekly sessions at present and Anna has given me exercises to do between treatments. The swelling in my feet has massively reduced and I feel confident my condition can be managed. Thank you Anna for introducing me to this fantastic treatment and for being such a great support on this journey" Jo, Reflexology Lymph Drainage client, Redbridge, November 2022

"I went to see Anna after some local recommendations and being told induction of labour was imminent. Anna was reassuring & brilliant, explaining everything she was going to do and how it was going to prepare my body for labour..... I left feeling unbelievably relaxed and zen. No doubt, 12 hours late the contractions came on thick and fast and within 24 hours our daughter was here! Amazing!" Jen, 41 weeks pregnant, Walthamstow, August 2022

"I originally visited Anna as I was struggling to get pregnant and was going through my first round of IVF. A friend bought me the first session as a gift and I was so impressed I have been going to Anna ever since. Firstly Anna herself is so incredibly approachable and kind, she puts you at ease immediately and creates a lovely atmosphere for sessions. She takes a keen interest in her clients and is clearly very knowledgeable. I always feel better after the sessions, both physically and emotionally. I am now pregnant and will continue to see Anna on a regular basis" Libby, Fertility Reflexology client, Walthamstow October 2022